---
On behalf of the Parishioners, Religious and Clergy of Drumcree Parish, I welcome you to our website. Thank you for joining us.

Perhaps you have gone online to learn more about the Parish you live in – welcome neighbour. You may come from further afield and simply want to know something about Drumcree Parish – I hope that your visit will transform distance into friendship.

Maybe you wish to access information about our Catholic Faith; the celebration of the Sacraments; or some of the many organisations that are active in our Parish.

Whatever the reason for your visit, I trust that you find it worthwhile. I pray that the time you spend on the website will assist you in your journey through life.

Prayerfully,

Very Rev Michael O'Dwyer PP VF

Read more...
Cardinal Séan Brady ordained fifteen seminarians as deacons on Sunday, 1 June 2014, the Solemnity of the Ascension of the Lord, at Mass celebrated in the College Chapel of the national seminary in Saint Patrick's College, Maynooth. Two of the newly ordained deacons are from the Archdiocese of Armagh. They are, Aidan McCann a native of Cookstown and Brain Slater from Coalisland. Congratulations Brian and Aidan!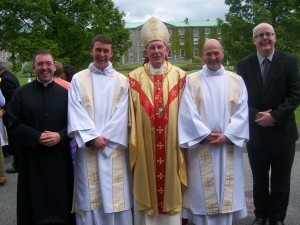 Read Cardinal Brady's Homily
HERE
Hospital Visitation by Clergy
From 1st May, due to the Data Protection Act and the Common Law Duty of Confidentiality, hospitals are no longer able to provide visiting Clergy with a list of those in Hospital. Therefore, if you would like us to visit someone in Hospital, you are asked to give their name and exact location in the Hospital so we may visit, otherwise, this will not be possible.
Still want to access Year of Faith Website? Visit http://www.annusfidei.va/
Our Year of Faith Questions and Answers are still available in the Year of Faith Section of our Website